WSNet launches women's sport TV listings service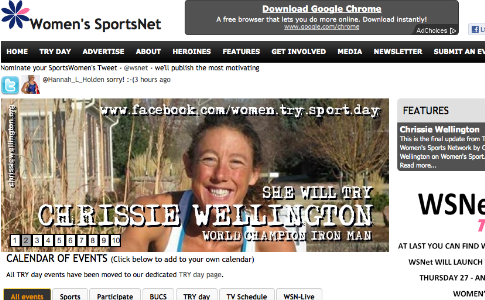 Want to watch more women's sport on TV? Then listen up!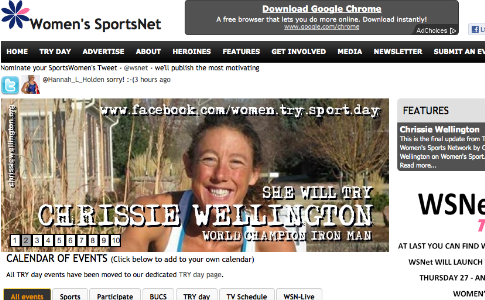 Sportsister has long been vocal about the need for more mainstream and accessible broadcast coverage of women's sport, so we were delighted to hear news of WSNet-TV Listing, a free, weekly online publication covering screened events on women's sport, which launches today.
WSNet-TV, or the Women's Sports Network-TV, will be a hub for screened events on women's sport across all visual media. The need for this service was highlighted last week with the new Culture Secretary, Maria Miller, calling on television bosses to broadcast more women's sport in the wake of the success of stars such as Jessica Ennis and Ellie Simmonds during London 2012.
Mrs Miller said the success of GB's female athletes had been truly inspirational and that the huge TV audiences showed the public had a real appetite for mainstream coverage of women's sport.
In addition, research undertaken by the WSFF (Women's Sport and Fitness Foundation) before London 2012 shows that women's sport in the UK only receives some 2 per cent of media coverage.
"These sports women serve as incredibly powerful role models for women and young girls," said Miller. "This needs to be embraced by broadcasters through continued mainstream coverage."
Emma Louise Vetriano, Social Media Manager at The Women's Sports Network, spoke of how the new service works with the Culture Secretary's calls, adding: "WSNet will offer National Governing Bodies and other 'match rights owners' publicity on 'WSNet-TV Times' by scheduling live-streamed events and women's matches. These will be published within our schedule at no cost to the rights owner.
"Our WSNet-TV Listing service clearly underscores Miller's calls for broadcasters to improve their coverage of Women's Sport," she continued. "We see social and digital media offering huge opportunities for women's sport to broadcast, narrow cast, twitter-cast and work alongside traditional media to the benefit of women's sport,"
Danielle Sellwood, Co-founder of Sportsister, commented on how now is the time to build on the inspiration and momentum left from London 2012.
"We are delighted that WSNet is helping to promote women's sport with TV listings," she said.
"This post Olympic/Paralympic period is critical if we are to keep the momentum going and projects like this are really helping. These are exciting times for supporters of women's sport and we look forward to seeing a time when it gets the coverage it deserves."
Find WSNet-TV at www.wsnet.co.uk and sign up for a weekly list of programmes to be sent to your inbox here.
Sportsister
The Women's Sports Magazine
Select a sport
Find out how to get started, training plans and expert advice.