Getting started – netball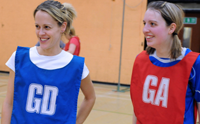 Most of us played netball at school and for many the image of gym knickers and PE teachers still lives on. But it is so much more than a school sport. This year will see England take on the world's best at the Commonwealth Games as they go for gold. Currently ranked no.3 in the world it's certainly not out of their reach. If you've been inspired by the recent Zeo Superleague, or just want to swot up before Glasgow, read Sportsister's guide to get you started in netball.
What's it all about?
Netball is a non contact game between two sides of seven for four fifteen minute quarters. Played both in and outdoors it's suitable for all times of year but the season traditionally runs through the winter.
There are a few basic rules covering the areas of the court specific players are allowed to go, footwork regulations and obstruction but they are easy to grasp and once you have these will pick the rest up as you go.
How do I get started?
England Netball's Back to Netball project aims to help women who have not played since their schooldays rediscover their love of netball. Throughout the country open training sessions for all abilities have been set up, and are held at local sports centres.
The emphasis is on a friendly, fun, supportive environment. Basic skills are developed, fitness levels improved and there is an element of competitive play. And for those who are keen to progress into a competitive team it's the perfect launch pad. In fact many women who joined the back to Netball project have gone on to form their own teams!
Where can I find my local club?
If you join the Back to netball scheme you will be able to get info on local clubs here. Otherwise visit the England Netball website. Here you will find the contact details for the Regional Manager in your area of the country. Contact them with details of the kind of club you are looking for and they will advise you of suitable clubs close by.
What next?
Clubs are always keen for new enthusiastic members, so once you have found your local one head down to join one of their training sessions. Some clubs charge a small fee per session and others require you to pay to become a member but this is usually relatively inexpensive. The time commitment required of you will depend on the club you choose, but you can expect to train once a week plus playing on match day.
What gear do I need?
One of the great things about starting out in netball is the low costs involved. You can wear any of your usual sports gear. Tracksuit bottoms, leggings or shorts are fine, and a sports tee or vest on top. If you are playing indoors you will need trainers that have non marking soles, but for outdoor your usual trainers are fine. Your club will provide you with bibs and balls.
Go for it
If you are looking for a sport that's sociable yet competitive, can suit all abilities, improve your fitness and is easy to fit in to an all ready busy life, then give netball a shot.
Netball has a growing profile in the media and Superleague (the highest league in Britain) matches are shown weekly on Sky Sports. The 2014 season has now finished, but you can re-live Manchester Thunder's stunning last-second, one-goal victory here! 
The greatest league of them all is the ANZ, this combined Australian and New Zealand league really does attract the world's greatest players, including a number of english stars. Keep up with the ANZ action here
Visit www.englandnetball.co.uk and click on the Club Finder link to get started now
Sportsister
The Women's Sports Magazine
Read more Getting Started guides:
Getting started – indoor climbing
Select a sport
Find out how to get started, training plans and expert advice.